ABOUT
BIRGIT AHLEMEYER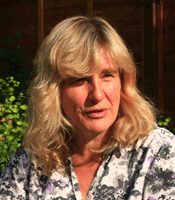 I qualified as a veterinary surgeon in Germany in 1988 and after working for a year as a conventional vet I worked with Peter Andresen who was the President of the International Association of Veterinary Homeopathy. I learned to treat dogs, cats, horses and small animals homoeopathically. My PhD looked at fertility problems in horses.
I moved to England in 1994 and continued to use homeopathy in small animal practices where I was working. After moving to Sussex, I became a referral vet, working with many local veterinary surgeries.
I am passionate about treating animals with the most appropriate therapy or combination of therapies in order to improve their health and quality of life.
ALEX FURZER
Alex Furzer is also a qualified Canine behaviourist and offers one to one consultations at your home. Alex works with you and your dog, tailoring a programme to best suit you and your dogs needs. She takes a positive reinforcement approach, looking at the animal and their background as a whole. Alex feels this has only been enriched by the work that she does with Birgit and the two elements of behaviour and holistic treatment work very well together.
For more information on the work that Alex does please contact her via email at alexfurzer@outlook.com